Estimated reading time: 5 minutes
Nowadays, sustainability has become a key aspect of every industry, including the cleaning industry. In fact, the cleaning industry is striving to protect the environment and promote a healthier future by embracing sustainable practices to minimize its environmental impact.
One of the most effective ways to identify cleaning products that are considered sustainable is through product certifications.
THE IMPORTANCE OF SUSTAINABILITY IN THE CLEANING INDUSTRY
The cleaning industry plays a vital role in maintaining hygiene and cleanliness in everyday environments; however, it must also consider its environmental impact. By adopting a sustainable approach, the industry can minimize the consumption of resources such as water and electricity, reduce waste production and participate in preserving the planet's environmental resources.
Eco-sustainable practices in the cleaning sector include various aspects, such as reducing CO2 emissions, promoting energy efficiency, using safe materials, adopting conscious waste management, and implementing more responsible production processes.
THE ENVIRONMENTAL PRODUCT CERTIFICATIONS: WHAT ARE THEY?
Environmental product certifications are valuable tools for customers, cleaning professionals, distributors, and institutions to identify cleaning products that adhere to strict environmental standards.
Let's look at some notable certifications in the industry:
The Carbon Footprint, or climate footprint, defines the total amount of greenhouse gas emissions (GHG) calculated over the entire life cycle of a product (LCA – Life Cycle Assessment). The certification follows the requirements of ISO 14067:2018 "Greenhouse gases – Carbon footprint of products – Requirements and guidelines for quantification".
ReMade in Italy® is the environmental product certification that quantifies the content of recycled material within a semi-finished or finished product. ReMade in Italy certified products are guaranteed to have material content derived from recycling and by-products. (Source: https://www.remadeinitaly.it/).
The EU Ecolabel is awarded to products and services that meet high environmental standards throughout their life cycle: from the extraction of raw materials, through the production process, to distribution and final disposal.
Green Cleaning Efficiency label identifies scrubber driers that have a high cleaning efficiency and use the least amount of energy and water. It is a certification that focuses on the efficiency and sustainability of cleaning products. It is based on the Technical Specification TS 35000 and the international standard IEC/EN 62885-9.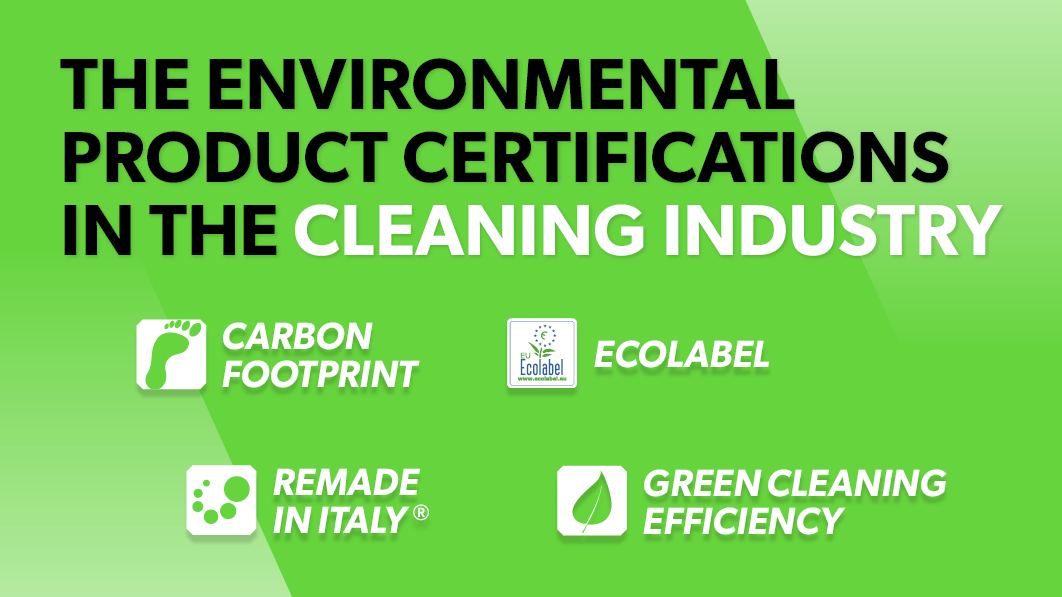 WHAT ARE THE ADVANTAGES OF ENVIRONMENTAL CERTIFICATIONS FOR A COMPANY?
These certifications offer numerous advantages to all those involved in the cleaning industry, from the manufacturer to the distributor to the end customer.
Conscious and informed choice. Certifications enable customers to make sustainable and responsible choices. By providing transparent information about a product's environmental credentials, certifications help consumers make informed decisions. Knowing that a product is certified encourages customers to support companies that adopt environmentally responsible practices.
Differentiation in the market. Manufacturers who obtain product certifications demonstrate their commitment to sustainability and differentiate themselves in the market. These certifications highlight the sustainable approach of each company producing professional cleaning solutions, thus attracting the most environmentally aware customers, and promoting general improvement within the industry.
Reducing environmental impact. Following certification requirements enables manufacturers of cleaning machinery and equipment to significantly reduce CO2 emissions, minimize resource consumption and promote responsible waste management. This contributes to making the entire cleaning industry more sustainable and environmentally responsible. Furthermore, the adoption of environmentally friendly practices can lead to energy savings and long-term cost reductions for companies.
Regulatory compliance. Product certifications often align with regulations and institutional initiatives to promote sustainability (with some of these certifications, it is possible to participate in tenders). Manufacturers who obtain these certifications can demonstrate compliance with environmental standards, ensuring compliance with legal requirements and avoiding penalties.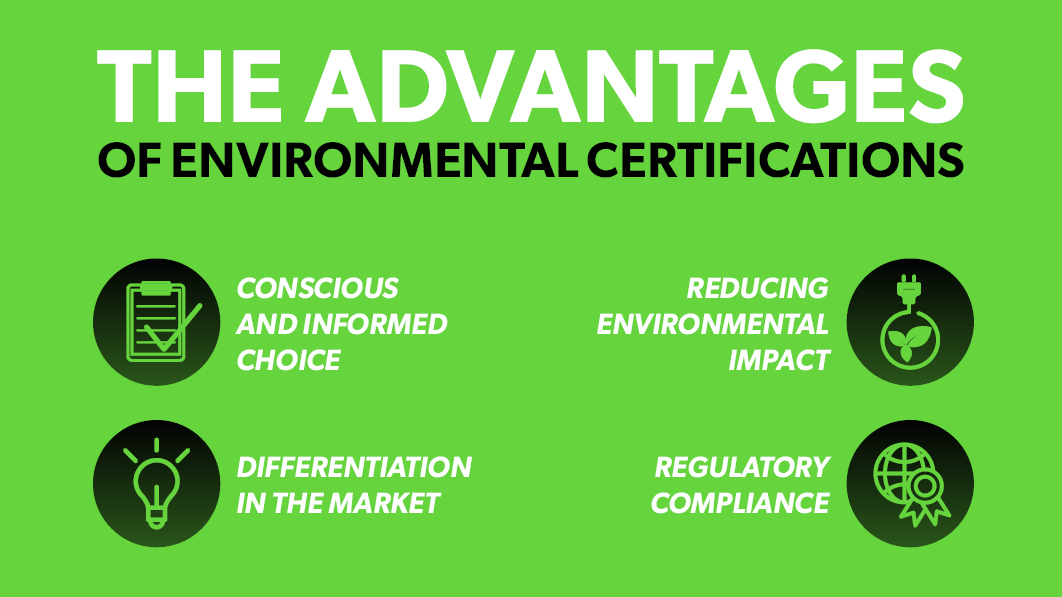 CONCLUSION: WHY ARE ENVIRONMENTAL CERTIFICATIONS IMPORTANT FOR A COMPANY?
With the growing importance of sustainability, the cleaning industry must prioritize environmentally friendly practices. Sustainability certifications play a key role in identifying cleaning solutions that meet stringent environmental standards.
These certifications enable consumers to make informed choices, allow producers to differentiate themselves in the market, and drive the industry towards sustainability.
Choosing certified professional machinery and equipment is one of the key steps towards sustainability, thus contributing to building a safer and more sustainable future.
For more information about our products and our sustainable approach, please contact us. Our team of experts is ready to provide you with the information and support you need.