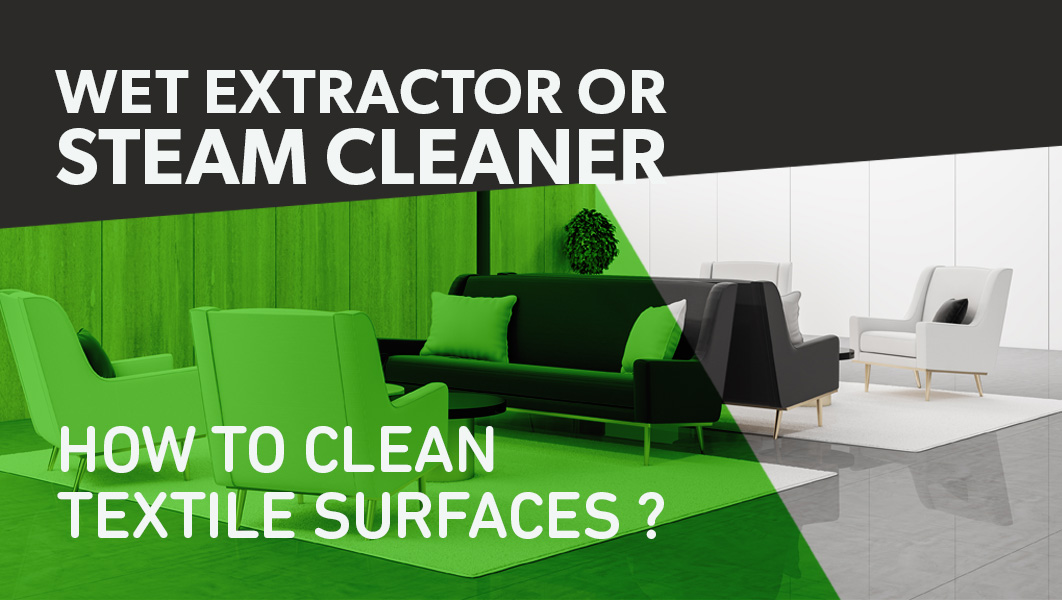 Estimated reading time: 5 minutes
Cleaning and sanitising rugs and carpets as well as mattresses and the fabric upholstery of sofas and armchairs, especially if they do not have removable covers, can be quite challenging. Dust, dust mites and dirt accumulate within the fabric fibres which is why regular and thorough cleaning is essential to ensure adequate hygiene levels.
How to clean carpets, mattresses and the upholstery of sofas and armchairs to remove of dust, dust mites and stains
Rugs, carpets, mattresses and upholstery in hotels and accommodation facilities should be cleaned frequently as they are magnets for dust and dirt.
Conventional cleaning methods are not always sufficient. In fact, vacuuming alone is not enough as textiles also need to be washed and sanitised to remove stains and marks.
Therefore our best allies for cleaning, washing and sanitising rugs and carpets, mattresses, sofas and armchairs are carpet cleaners (or extractors or injection-extraction machines) and steam cleaners which feature an integrated vacuum cleaner.
1. CARPET CLEANERS
Using a carpet cleaner to wash and sanitise rugs and carpets ensures effective and thorough cleaning. In fact, this machine combines vacuuming and washing: in this way, rugs and carpets are vacuumed and instantly washed in a single pass. With the right accessories, carpet cleaners can also be used to clean and sanitise sofas, armchairs and mattresses.
IPC's carpet cleaners are versatile and multifunctional as they perform three actions in one: they vacuum up dust, remove liquids from surfaces, and clean thoroughly thanks to the injection-extraction system.
GP 1/16 EXT is IPC's extractor equipped with a powerful two-stage motor, a 16-litre barrel and an external water tank. Thanks to its compact design, it is ideally suited for use in small to medium-sized spaces; while  the wide range of accessories available, make it suitable to be used on all kinds of surfaces, including rugs and carpets, hard floors, sofas and car interiors.
2. STEAM CLEANERS
Using steam to clean and sanitise rugs, sofas, mattresses, cushions and carpets is a whole different story! The versatility of our steam generators make them suitable for a wide range of applications such as cleaning sanitary ware, vertical surfaces, mirrors, floors as well as cleaning textile surfaces.
SG-50 is IPC's professional multi-purpose steam generator. Thanks to its modular design, it can be used stationary or on a trolley together with the vacuum cleaner: the steam dissolves the dirt, which is vacuumed, and the surface is then completely dried, for excellent cleaning results in a short space of time.