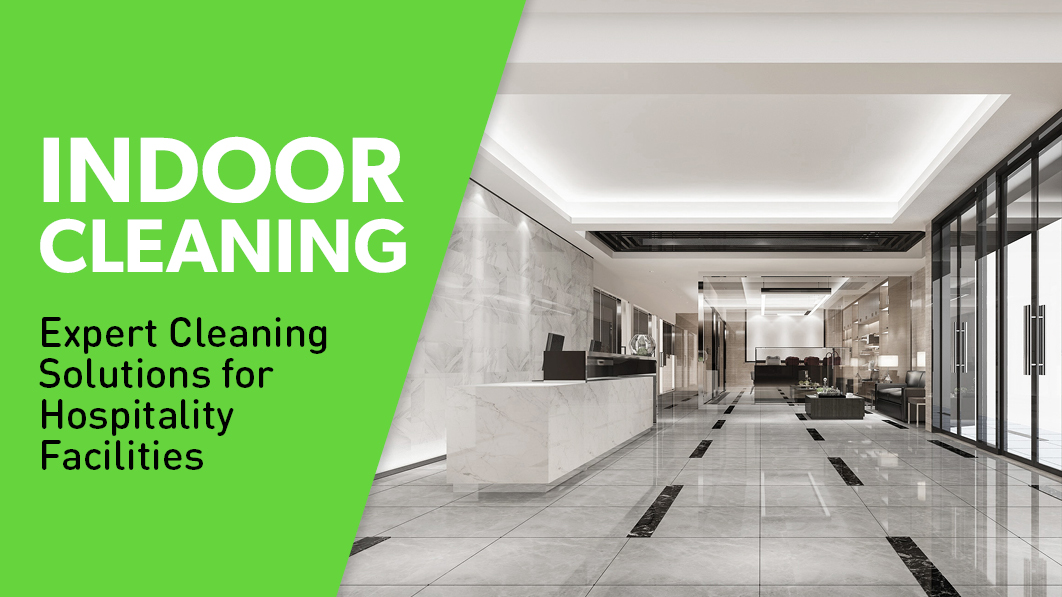 Estimate reading time: 7 minutes
Creating a welcoming and clean environment is crucial for hotel businesses. Whether you run a hotel, resort, restaurant, or any other hospitality establishment, maintaining impeccable cleanliness standards is essential for guest satisfaction and the overall reputation of the company.
If the cleanliness of outdoor areas is imperative, indoor areas require special attention to maintain excellent hygiene standards. We are talking about common and reception areas such as, check-in areas, lobbies and entrances, meeting and conference rooms, children's play areas, communal toilets, lifts, staircases, relaxation areas and swimming pools, as well as dining areas and guest rooms.
For this purpose, it is important to use professional cleaning solutions specifically for indoor spaces.
Professional cleaning machines and equipment play a key role in achieving exceptional cleanliness standards.
In this post, we will explore expert strategies and some of the best solutions that will help you achieve perfect cleanliness in your hospitality facilities. With these machines and equipment, you can create a welcoming environment that will exceed guest expectations and ensure a memorable experience.
1. DEVELOP A COMPLETE CLEANING PLAN
Every hospitality establishment has its own specific cleaning requirements based on the size, layout, and types of spaces. It is therefore necessary to develop a customized cleaning plan that outlines the frequency, areas to focus on, and special requirements to guarantee nothing is overlooked and that cleaning activities are organized and performed efficiently.
2. USE HIGH-QUALITY CLEANING PRODUCTS
Choosing high quality cleaning products specifically designed for hospitality environments is a key step. Eco-friendly solutions that are effective and at the same time environmentally friendly and safe for both guests and staff should be preferred. Using these products ensures improved cleaning results while promoting a healthy and sustainable environment. Here are some IPC must-have products that are essential for daily cleaning activities.
Cleaning horizontal and vertical surfaces
When it comes to cleaning horizontal and vertical surfaces, there is a wide range of equipment available for effective cleaning. Here are some options:
Microfiber cleaning cloths are highly versatile and can be used for wiping surfaces, dusting furniture, and cleaning glass. They ensure thorough cleaning and can be used wet or dry. These cloths can hold dust effectively, glide smoothly over surfaces, and leave no marks. They are available in color-coded versions for easy identification. Specifically for glass cleaning, you can opt for Micro Glass and Vetrix cloths.
The Cleano collection offers various sizes of cleaning tools that are designed for easy and effective cleaning of horizontal surfaces, such as tables and furniture. They are also suitable for cleaning vertical surfaces. Cleano is equipped with telescopic poles, allowing it to reach and clean surfaces up to 8 meters high. It is even suitable for cleaning indoor windows and mirrors. An environmentally friendly feature of Cleano is its micro-nebulization system, which can dispense pure water, effectively tackling dirt without the need for detergents.
To reach areas that are inaccessible from the floor, such as cupboard shelves or high shelves, a flexible, maneuverable, and lightweight microfiber duster can be used. It enables you to effectively clean those hard-to-reach spots.
Cleaning glass and windows
Clean and sparkling windows greatly enhance the overall appeal of any facility. If you are new to window cleaning and seeking a convenient and user-friendly solution, a basic window cleaning kit is recommended. This kit typically includes a fleece holder and microfiber fleece for window washing, a squeegee with a handle, two holders with interchangeable rubber for drying, and a scraper with spare blades. With this set, you can achieve excellent results in window cleaning.
Floor cleaning
For daily floor cleaning, it is highly recommended to use a high-efficiency HEPA-filtered vacuum cleaner like the LP 1/12 HOTEL. HEPA filters effectively capture dust, allergens, and other particles, preventing them from recirculating in the air. The LP 1/12 HOTEL is a lightweight and compact vacuum cleaner designed to deliver excellent cleaning results on all types of surfaces. With only 53 decibels, it is ideal for noise-sensitive environments where daily cleaning is required, without causing disturbance to guests and visitors.
Specifically for washing resin and linoleum floors, the Triggy Detachable is a practical and fast frame that sprays detergent directly onto the surface through its built-in tank. It is perfect for quick cleaning in frequently used areas such as corridors and hallways.
For more precise cleaning, not only of floors but also carpets and rugs, a floor scrubber such as the CT15 Roller is recommended. It is equipped with a carpet kit that allows you to easily convert the machine from a scrubber-dryer to a carpet cleaner. The foldable handle makes it convenient to wash and dry even under tables, providing effortless cleaning.
3. CARRY OUT THOROUGH AND REGULAR CLEANING
Carefully and routinely cleaning is important to ensure that the facility is always neat and tidy. Schedule deep cleaning sessions for areas that require extra attention, such as carpets, upholstery, and hard-to-reach corners.
4. PAY EXTRA ATTENTION TO TOUCHPOINTS
High-contact surfaces such as door handles, light switches, lift buttons and reception desks are critical points for germ and bacteria growth. It is therefore necessary to establish a routine of frequent sanitization and disinfection of these surfaces to minimize the spread of pathogens and ensure a safe environment for guests.
5. SEEKING FEEDBACK FROM GUESTS AND STAFF
Regularly evaluating cleaning processes and asking for feedback from staff and guests is essential to identify areas for improvement and make necessary adjustments. Placing the highest priority on cleanliness and continuously evaluating processes will contribute to the success and reputation of the venue.
6. INSPECT AND MAINTAIN EQUIPMENT REGULARLY
Equipment should be checked, cleaned, and sanitized after every use to avoid cross-contamination and to maintain optimal performance. Regular maintenance and timely repairs extend the life of equipment and ensure effective cleaning results.
Conclusion
Accurate and deep cleaning of hospitality indoor environments is essential for guest satisfaction and a successful business. The best practices in this post can help to further improve the way spaces are cleaned and to create an impressive atmosphere.
For more information, please do not hesitate to contact us. We will be happy to provide you with all the necessary support.