Estimated reading time: 10 minutes
Although it may seem simple enough, window cleaning can be one of the most hazardous activities.
The data speaks for itself; in UK annual statistics show that accidents are frequent and that every year, about 30 workers suffer serious injuries from high window cleaning.
Recently, there have been some scary incidences that could have resulted in tragedy, but luckily did not. In November 2014, cables securing two New York window cleaners malfunctioned, leaving the two dangling dangerously on a platform at about a 75-degree angle, close to the 69th floor of One World Trade Center. After a dramatic rescue, fire department workers managed to haul the two to safety.
In December 2013, a window cleaner plummeted from the roof of a Manhattan skyscraper, down from the 47th floor. Miraculously, the man only got minor injuries as he managed to cling to a scaffolding platform while falling.
Generally speaking, the main risks for window cleaners' safety are represented both by accidental falls, (from a ladder, external sills, or fragile roofs) and by improper use of chairs and benches. Accidents can also derive from inadequate access equipment when working on suspended window cleaning cradles or on platforms, both mobile or suspended.
Given these risks, and the potential of incidents such as the ones described above, the big question is:
How can a business keep its workers safe while staying compliant with legal and regulatory obligations?
In the case of window cleaning, planning is the most appropriate answer.
The law on working at height requires employers to consider meticulously a risk assessment when organising their activities. This allows the employer to identify the precautions needed, so that jobs can be carried out with the best safety guarantees.
A professional window cleaning contractor should develop a detailed written work plan, including any necessary measure to avoid accidents or injuries: adequate equipment, in-depth training and accurate site evaluation.
This information is essential to evaluate the adequacy of available tools to carry out window cleaning effectively and professionally.
Planning can also help check if operators have sufficient skills, knowledge and experience to perform their duty, or if further training should be made on the job.
In this regard, HSE (Health, Safety & Environment) regulations recommend avoiding working at height whenever possible by using different cleaning methods/tools, such as telescopic water fed poles. Alternatively, they suggest that windows should be cleaned from the inside or from a safe existing place, such as a balcony or a terraced roof.
Solutions from the market
Nowadays, the market provides many versatile solutions to this problem. Hydraulic poles, for example, have significantly reduced risks of falling while performing cleaning tasks. IPC engineers recommend the use of telescopic poles for jobs up to 10 metres in height, because of their many features compared to modular poles. The latter system comes handy for jobs from 10 metres upwards, due to the ease of use.
Indoor solutions from IPC
IPC's main solution for indoor window cleaning is the CLEANO system. This equipment features telescopic anodised aluminium poles with a click–lock device and can reach up to 5 metres with the operator keeping both feet safely on the ground. It is easy to use and can clean tight corners from any angle. Lightweight, compact and manoeuvrable, this tool quickly washes and dries all surfaces while significantly reducing operating times.
The Cleano can work with detergents but can get excellent cleaning results with just pure water, for a more environmentally-friendly cleaning.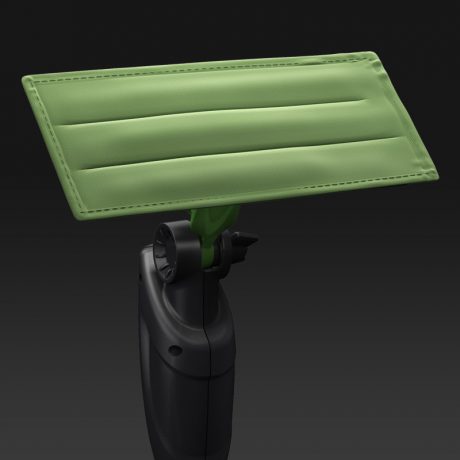 Outdoor solutions from IPC
The demand for solutions to clean outdoor vertical surfaces is growing exponentially, in particular from people who work in difficult or inaccessible locations. For windows and frames fitted on skyscrapers, IPC offers a self-climbing system – the HIGHRISE, produced and customized by IPC Eagle, our branch in the United States – that can be put in place with standard roof rigs and operated wirelessly via remote control.
On the other hand, the flexibility of HighPure cleaning systems is an effective answer for cleaning surfaces such as glass, solar panels, uprights, aluminium, marble and any other nonporous material. The poles extension system featured in the HighPure system can overcome obstacles such as building mouldings, elements of street furniture or other obstructions, thus simplifying cleaning with high consideration of other aspects such as safety, costs and accessibility.
The equipment is controlled from the ground and does not require the use of ladders, scaffolding or suspended platforms. Extension poles and accessories let operators reach high windows easily, even across obstacles like flowerbeds, bushes or street furniture, achieving perfect cleaning results without the use of detergents, in the total respect of nature.
And what about the future of window cleaning?
It's hard to imagine …
Technology is moving forward quite rapidly and innovation is focusing on the development of cleaning systems that make smart and thrifty use of water, and that approach with the total elimination of chemical detergents, with the benefit of the planet and of future generations. Also the interest on robots is growing sensibly.
But that will be the next story!