Estimated reading time: 7 minutes
"This edition was truly extraordinary! Major manufacturers have introduced their best professional cleaning solutions, presenting innovative and efficient technological products, with a view to a sustainable development."
This is just one of the comments received a few days after the closing of the event, whose 3rd edition took place from 13 to 15 June 2018.
This exhibition is still fairly new but already well-known and has become unmissable for any company having the mission to keep tidy and clean locations and workplaces all over the world, day in and day out.
ESCLEAN in Madrid
The first edition of ESCLEAN was held in 2014 and immediately drew attention to the giant steps the cleaning sector had recently taken in. Its debut highlighted the remarkable level of professionalism of many companies and the quality of their solutions and their products.
It also encouraged a greater awareness of the issues of cleanliness and hygiene in an environmentally conscious world.
The tradeshow, which takes place every two years, is now a very important meeting point for professionals in the sector, offering an ideal setting to discuss market trends and pursue new business opportunities.
ESCLEAN has become an ideal showcase for all cleaning industries with its visitors being mainly local administrators, dealers, distributors, members of associations, executives from hospitals, food industries, hotel chains etc. The Spanish cleaning sector alone has 16.000 companies and employs 360.000 people.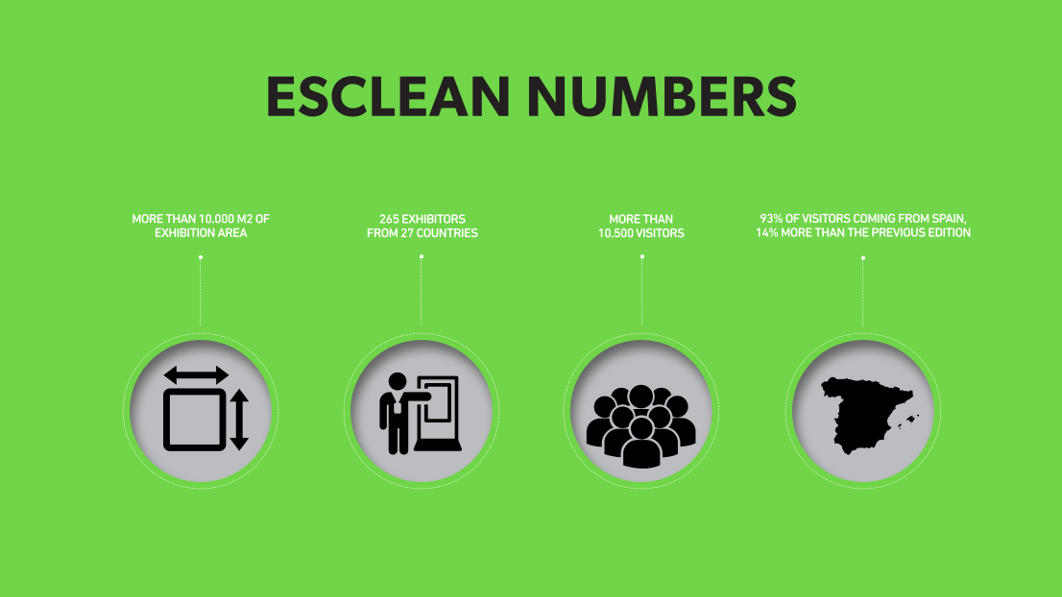 Esclean is a relatively young exhibition and IFEMA, the structure that hosts the most important trade shows in Madrid, has over 30 years of experience in the field (with approximately 1500 trade shows with over 80 million visitors!)
Why in Madrid?
Today, Madrid is no longer just the enjoyable and full of life capital city of Spain. It is a cosmopolitan city that attracts tourists and workers from all over the world, thanks to its strategic position in the heart of the Iberian Peninsula.
For this reason, Esclean has quickly turned into an international event that is able to welcome and accommodate hundreds of exhibitors and thousands of visitors.
What about IPC's presence at ESCLEAN 2018?
IPC was present through its Spanish branch with a new stand layout that gave special emphasis to the corporate image of the group.
A lot of visibility was obviously given to IPC's products, especially the "heroes" products, whose innovative technology and designs are the result of a more conscious approach and sparing use of natural resources.
The scrubbing machines CT51 and CT71, for example, taking advantage of several featured innovations, can now reduce the consumption of water by 80%, the use of detergent by up to 90% and energy absorption by 15%.
High pressure washers were on display, with both hot-water and cold-water versions, along with many models of vacuum cleaners, providing a complete set of modern and effective solutions for professional cleaning.
The PW H100, for example, is the top of the line hot water high pressure washer in the IPC range. Specifically designed for intensive use, featuring a powerful boiler with 40m coils and a new 100 KW engine, it ensures constant and amazing professional cleaning performances.
The exclusive safety devices that it features make this model one of the most reliable in the market, allowing the operator to enjoy safe working conditions, while combining superior cleaning performances with costs and maintenance time reduction.
The PW-C45 and PW-C55 models, both cold water high-pressure washers, were designed for non-professional users but nevertheless ensure professional level cleaning performances.
The new silhouette and the internal layout of the components have been designed with total respect for the environment and pay special attention to safety for users.
The innovative solutions featured in these machines allow a significant reduction in water and energy consumption and improve global efficiency (by 10%), meaning reduced labour time and costs.
Last but not least, 90% of its components are fully recyclable, which highlights once again the Group's eco-sustainable concern and policy.
The LP line of vacuum cleaners have been very successful as well. It is the only line of dry vacuum cleaners designed specifically to comply with the new ecodesign legislation. Silent, easy to transport and ergonomic, these machines can work efficiently in any situation and location, thanks to their ergonomic design and special "parking position" that allows them to stop and stay balanced, even on narrow staircases. The LP line also sports IPC's exclusive Black is GreenTM technology, meaning they are constructed of up to 75% high quality recycled plastic.
Manual equipment and accessories were also in the spotlight at the exhibition, including the improved trolleys, tools for windows cleaning, frames and accessories that make daily professional cleaning activity less fatiguing and more efficient.
The Black-is-GreenTM cart, for example, is the result of research aimed at making a superior quality product with special attention to a low impact on environment. It is light and handy, offering versatility but with reduced bulk and unchanged efficiency, while the use of recycled plastic guarantees high quality standards and superior resistance.
The Cleano system is a professional solution for internal surface cleaning that can reduce working time by up to 50% and still ensures spotless washing and drying.
Lightweight and easy to use, it lets you clean surfaces and internal glass walls up to a height of 5mt in a perfectly safe position, i.e. with both feet on the ground.
With an ergonomic, versatile and adjustable handle, together with a dedicated wide range of microfibre cloths, this tool is the most efficient solution for daily cleaning operations.
The use of pure water makes Cleano the perfect and totally eco-sustainable tool for cleaning as well.
IPC's experience at Esclean 2018
We asked Tomas Biel, Managing Director of IPC's Spanish branch, and his staff to share with us their views on Esclean 2018:
"I am very satisfied!" Thomas Biel told us. "This edition of Esclean has really surpassed itself, and we have been positively impressed by meetings with visitors from all over the world and from different businesses. We were surprised to meet many companies from the recycled waste collection sector. It has been an edition that we will remember with pleasure! So many visitors to our stand! That was much more than we expected
What kind of feedback did you receive from visitors?
"Visitors to our stands have been very attentive and interested in our products. The new scrubbers – the CT51 and CT71 – have attracted a lot of interest due to their ergonomics and to the technological innovations they feature. We also noted general approval of the the Black is GreenTM carts "philosophy", being eco-friendly, clever and versatile at the same time."
The whole staff of the Spanish branch has shown renewed enthusiasm and involvement in the IPC's challenge and now, with additional motivation, they already look forward to ESCLEAN's 4th edition!
For more information, please write at info@ipcworldwide.