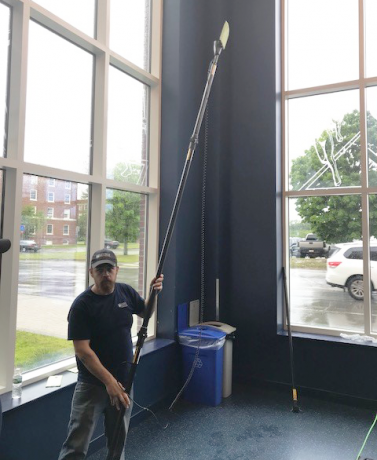 IPC Eagle's Cleano is a perfect product for cleaning indoor windows and glass surfaces, especially surfaces at higher elevations. Bob Gleason, New England Regional Manager, presented the Cleano to a business in his region to show its benefits and why it is superior to using standard spray bottles and cloths while cleaning windows.
The Cleano can clean up to 35', without leaving the ground, when working with telescopic poles, eliminating any safety hazards. It features a built-in sanitization globe and a microfiber pad, reducing water usage by 90% as well as time needed to refill the solution/ water. With the microfiber and the pure water that is used with the Cleano, no chemicals are needed, providing a streak-free clean.
To test out the Cleano on your indoor glass surfaces and windows, contact IPC Eagle to schedule a demonstration.