estimated reading time: 10 minutes
There are cleaning tasks that only a high pressure washer can perform.
Now that the good weather is coming a cold water high pressure washer is the right tool to remove sticky dirt, moss, lichens, bird droppings, moisture stains, chewing gums and food residues from the driveway or the garden walls of your house.
As a matter of fact, without a high pressure washer it would be stressful and overwhelming to confront these stubborn and difficult stains.
Ok, but which one to choose? The choice depends on the usage and frequency  of the cleaning tasks to be completed.  With these factors in mind you can easily select the right machine for your task.
High pressure washer "keywords"
"Water pressure" and "Flow" are two key parameters to assess the strength of your cleaning machine:
The role of pressure is to detach dirt from surfaces
The flow is the quantity of water coming across a section in a given unit of time. The flow carries away the dirt detached by the pressure.
Of course the abovementioned parameters can be varied in accordance with different applications:
with a higher pressure, you can remove highly adhesive dirt and/or encrustations (in the building or industrial sectors for example). In that way working times are reduced while saving water and energy;
with a higher flow rate you can get remarkable results in the presence of heavy and massive dirt (as in agriculture or in the food sector).
Washing efficiency is actually determined by a good balance of pressure and flow rate.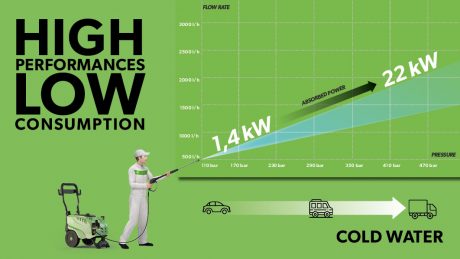 When to Use a Hot Water Pressure Washer or a Cold Water Pressure Washer
Besides pressure and flow there are other crucial features to consider, depending on our task.  As a matter of fact both hot and cold water pressure washers can have the same flow rate, the same pressure and the same ability to clean indoors and outdoors. Hence the crucial question: shall we choose a hot water or a cold water pressure washer if the other features are relatively similar?
A hot high pressure washer consists of an electric motor connected with a high pressure pump (motor-pump assembly) and a boiler that heats up  pressurized water. A load-bearing structure holds the main components of the machine, including a tank that fuels the boiler, detergent and water circuitry to feed the high pressure pump, an electrical control panel and other devices required by the boiler (a fan, a diesel pump, etc).
The high temperature that water can reach in hot water machines makes them particularly suitable to clean complex and difficult to reach engines or other machinery, where grease and other oils must be removed efficiently (automotive sector).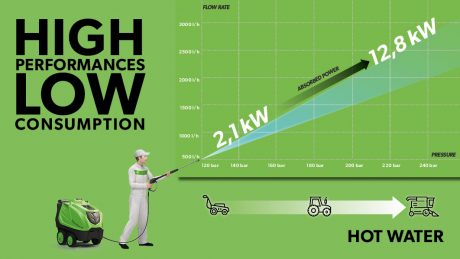 Recently hot water machines have been widely employed for industrial cleaning applications and are acquiring a main role in heavy industries as they boost efficiency and production capacity in industrial lines.
Hot water machines are more expensive than their cold water equivalents, not only for the complexity of their structure but also because they require more maintenance, especially for the burner circuitry, coils and pressure-protection devices, all of which require annual tune-ups.
Nevertheless, today main manufacturers are investing a lot into innovative electronics and technical systems, with a view to design and launch midrange and heavy duty models, ensuring excellent performance at very competitive prices and with low maintenance costs.
IPC's exclusive Delayed Total Stop system (DTS), for instance, is a device that preserves the engine/pump group, which is the heart of the machine. The Micro Leakage Control (MLC) prevents deterioration of the whole hydraulic system, while the unique Dry Running Protection system (DRC), which is featured in many IPC machines, automatically stops the engine if water is not running properly in the circuitry. All these exclusive and advanced electronic systems are designed to give a higher endurance to our machines reducing both maintenance time and costs.
At IPC ergonomics is another strategic matter: big and bulky machines must still be easily manoeuvrable. For this reason they are equipped with big and pivoting wheels, and with any needed accessories close to hand, to save time for the operator.
Last but not least, control panels need to be more and more intuitive in today's machines and cleaning settings must be clearly readable for a proper use.
Safety of operators
Among main manufacturers a lot of research is currently focusing on developing innovative, technological systems ensuring full protection to the operators while using the machines.
IPC MSCтм (multifunction safety control) technology, is a high-tech system specifically designed for this purpose.
If you want to know more about high pressure cleaning solutions, please contact info@ipcworldwide.com, we will be glad to answer your questions.