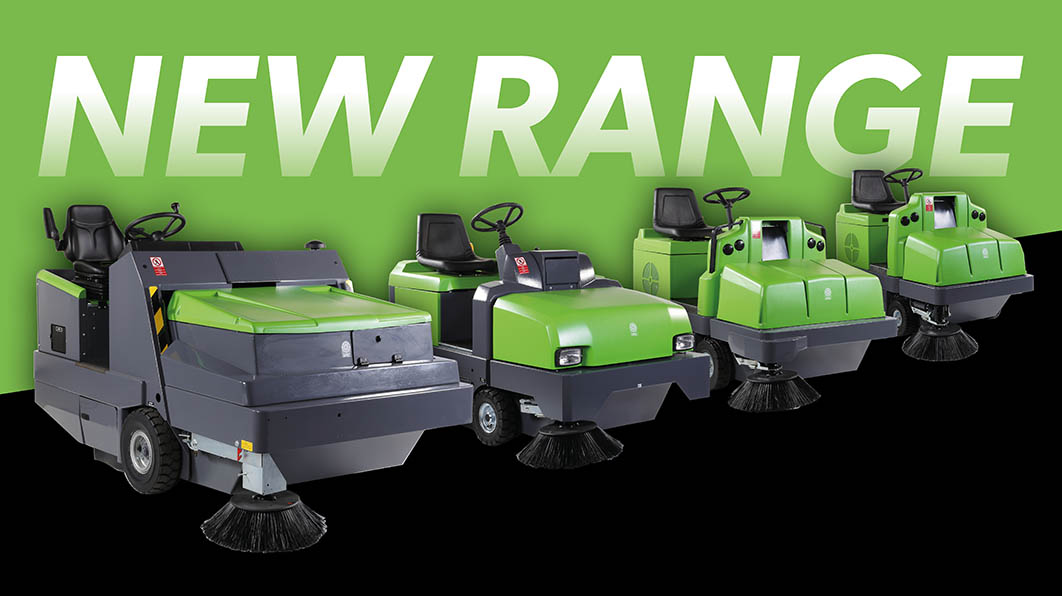 Estimated reading time: 9 minutes.
The sweepers market has recently been enriched with a new and powerful range of ride-on machines.  The latest line of IPC sweepers comes with 4 big and sturdy models, conceived to face the most strenuous sweeping tasks.
Why choose a ride-on sweeper?
Have you ever thought about the benefits of using a ride-on sweeping machine to perform cleaning activities in your business?
Think about the need to maintain and efficiently clean large areas in order to provide a clean and safe workplace for all employees as well as a pleasant, tidy environment for customers .
This challenging task becomes easier and more affordable with a ride-on sweeper.  Both you and your cleaning personnel will save time and labour and still get a top level cleaning performance!
These machines provide a comfortable working posture during operation, reducing muscular strain and ensuring excellent cleaning results with little hassle.
That is why the use of a high-tech ride-on sweeper optimizes the required working time. Would you tackle a large parking area with a simple broom?  These sweepers can turn a long and laborious activity into a no-sweat task, with positive effects on motivation and leaving you with more time for other tasks.
The top 3 benefits of IPC ride-on sweepers
The 4 pioneering ride-on sweeper models recently introduced by the IPC Group bring important benefits:
A higher level of dust control.
The operator will no longer need to redo the surface he just swept to ensure a perfect clean! All four new models are now equipped with an efficient front loading filtering system made from fabric and feature a powerful suction fan with a special filter shaker.

The layers of the filter will stay well-stretched during operation and will guarantee a thorough and flawless collection of debris: no need for another pass.

Also the short distance between the sweeper brush and the hopper, and the low-speed brush rotation, assure an efficient collection of both light and heavy debris: a far better collection compared to rear loading machines.

Long lasting working time.
No need to service them! The 4 versions available – battery, petrol, diesel and LPG – all feature a fan and traction brush motor activated by a hydraulic circuit and the liquid-cooling system guarantees long working shifts, even in hot climate regions.

Great maneuverability.
The operator can steer and maneuver the sweeper with greater ease thanks to the rear steering wheel that eases up repositioning and riding the machine in tight areas.
Where to use the new IPC ride-on sweepers?
The perfect setting for Industrial ride on sweepers is within large and medium areas, both indoor and outdoor.
They are the ideal solution for:
Logistic platforms: where surfaces need to be cleaned effectively in a single pass. Within logistic platforms, storage areas and warehouse halls must be perfectly clean from debris and dirt to guarantee good working environment and smooth flow of the goods to ensure customers receive their packages in perfect condition!

Parking lots: a clean and well kept parking lot is a strong and positive introduction for any hotel, store or Public building.
As a matter of fact, cleanliness and a tidy appearance are often indicative of high quality standards and care. A well-kept and well-looking environment definitely strenghtens customer confidence and at the same time attracts new customers by stirring their curiosity.

Public areas: you'll agree that a dirty and messy town square or a neglected and filthy playground give a poor image of the Community they belong to. These places should be welcoming and pleasant to see and live in. The use of professional and efficient ride-on sweepers is the right way to go in order to give citizens well cared for neighborhoods and help their well-being.
Reliable, productive and versatile.
The new IPC ride-on sweepers are made of robust components, designed for the hardest tasks in both medium and large environments.
If you want to know more about each model, click here to visit the website page dedicated.