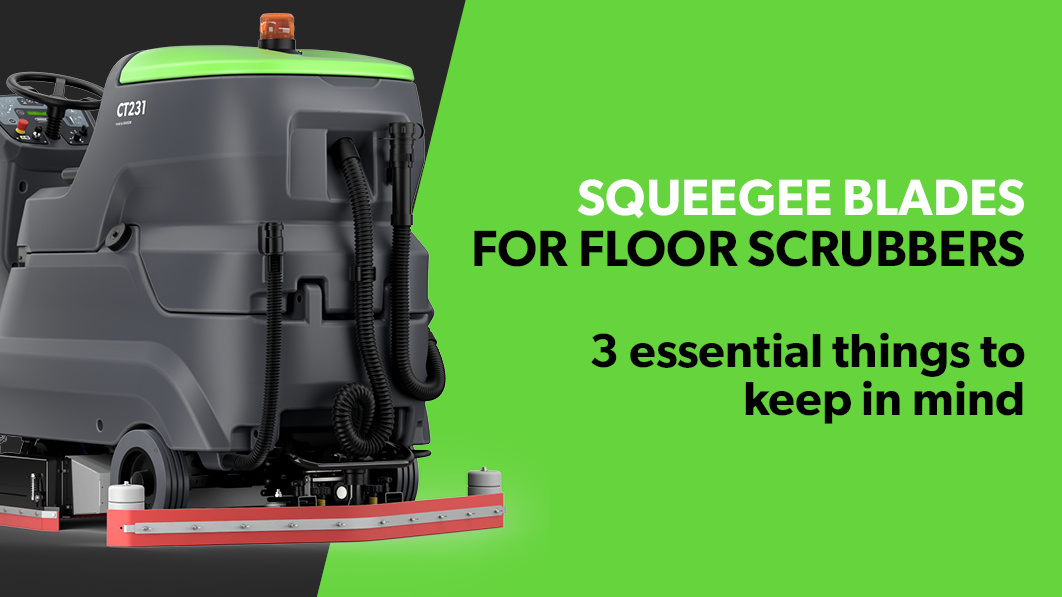 The squeegee is one of the most important components of your floor scrubber. If it's damaged or worn out the scrubber will leave water on the floor, which is unsanitary, looks messy, and could cause an accident. If you're concerned about doing a proper job of floor cleaning, you should know:
What the squeegee actually does
The three types of squeegee blades for the floor scrubber
How to care for the squeegee blade on your floor scrubber
Read on for the information you need.
1. WHAT THE SQUEEGEE ACTUALLY DOES
The floor squeegee is a device used to dry the floor, making it immediately safe and walkable after the mechanical cleaning performed by the floor scrubber brush. Typically, it is composed of a metal body housing two blades and an adjustable support. The two blades, in contact with the floor, utilize the suction created by the vacuum motor to create an air chamber that channels the water from the floor to a recovery tank.
The two blades that make up the floor squeegee are made of flexible materials to adapt to any surface irregularities while maintaining the necessary rigidity to prevent that water or dirt can pass underneath.
2. THE THREE TYPES OF SQUEEGEE BLADES FOR THE FLOOR SCRUBBER
Blades are produced in several materials and should be matched to the type of floor being cleaned. The main types of blades you should know about are:
Natural Rubber
Polyurethane
Latex
Natural Rubber Blades: These blades, made of natural rubber, are less resistant to chemical agents; therefore, they are not suitable for use with aggressive detergents, oils, or liquids containing hydrocarbons. They are effective on smooth floors with light irregularities.
Polyurethane Blades: Made of polyurethane, a synthetic material, these blades offer greater resistance to chemical agents. They are the preferred choice when working with aggressive detergents or when it is necessary to remove oils, solvents, and grease from the floor.
Latex Blades: Latex blades are composed of a natural material that is robust and extremely flexible, making them ideal for more challenging applications. These blades are known for their reliability and remarkable tear resistance while maintaining their flexibility even in cold conditions. However, latex, being derived from rubber, does not provide good resistance to chemical agents.
3. MAINTENANCE: HOW TO CARE FOR THE SQUEEGEE ON YOUR FLOOR SCRUBBER
The blade must be mounted in a way that applies uniform contact with the floor over its entire length. If it lifts up at the ends it won't be as effective.
The blade will wear over time and eventually won't do such a good job of moving water. When it starts leaving streaks or wet patches, it's time to rotate it. Remember that it has four long edges, so each should be used before the blade is replaced.
It's good practice to inspect the working edge of the blade at the start of each shift, rotating or replacing it before problems start appearing. Make sure a spare blade is always available, so you don't have to make do with one that isn't working as well as you'd like.
When shopping for replacement blades it can be tempting to go for the cheapest you can find. Don't! This would be a false economy. Blades that don't meet the quality demanded by the scrubber manufacturer will wear faster and probably won't do as good of a job moving water and debris.
CLEAN, DRY FLOORS MEAN A SAFER ENVIRONMENT
Clean floors are an important part of workplace health and safety. A floor scrubber with a defective blade will likely leave streaks and wet patches that could cause an accident. You can prevent that by using quality blades in the squeegee and replacing them before they get too worn.
IPC Worldwide specializes in professional and commercial floor cleaning equipment of all types. If you're looking for squeegee-using machinery, we can help. Search our website or contact us for more information.