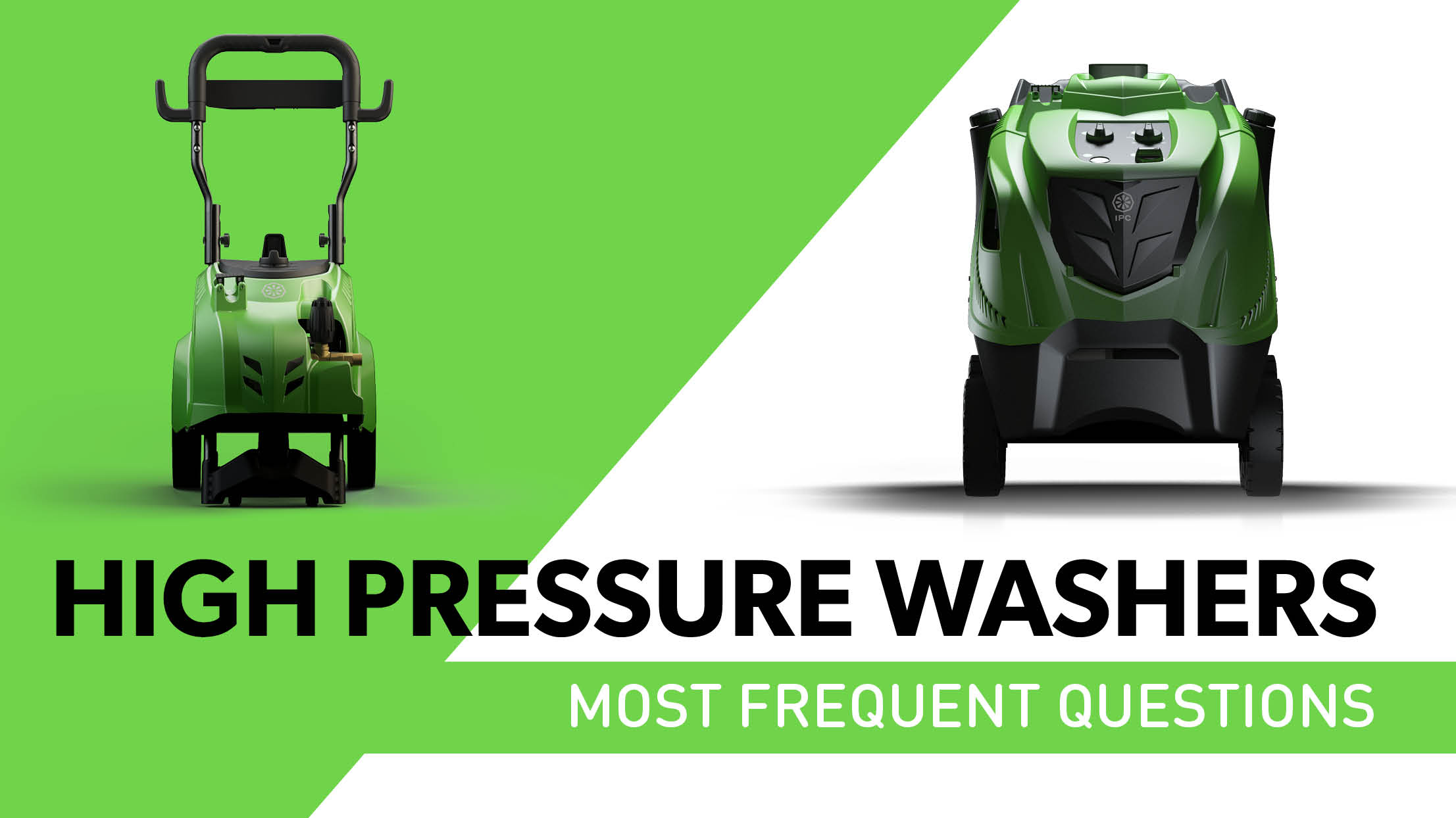 Estimated reading time: 7 minutes
Summertime, with its good weather and the holidays, is the right period to do some cleaning and the high pressure washer is the perfect ally that will save you time and energy by guaranteeing a reduced water consumption.
In fact, the high pressure washer is one of the most efficient cleaning systems and IPC offers a wide range of hot water and cold water high-pressure machines, where the right balance of pressure and flow rate easily removes even the most stubborn dirt.
In the pre- and post-purchase stages, customers ask us numerous questions. In this post we have selected some of the most frequent questions that arise when it's time to make a choice, giving you the answers which will allow you to make the best choice when purchasing your cleaning machine.
Let's start!
Why purchase a high pressure washer?
For its irreplaceability! It is indeed irreplaceable in many fields and it is the most effective and flexible cleaning system for its wide range of applications.
With a high-pressure washer you can clean in the most difficult to reach places and on irregular surfaces. Moreover, since cleaning takes place without contact, it is more difficult for dirt and bacteria to spread, guaranteeing the best hygiene result.
What are the main factors when choosing a high pressure washer?
During the choosing stage you should certainly consider the following elements:
field of use;
type of surface to clean;
type of dirt;
daily usage time;
available electric power.
Having considered these points, we can move on to the next question!
When is it more convenient to use a hot water high pressure washer and a cold water one?
The cold water high pressure washer makes it possible to remove almost every type of dirt, such as mold, moss and lichens.  Its compactness makes it easy to move and it would be the best choice if you need to move it frequently!
On the other hand, a hot water high pressure washer can melt the dirt meaning it is more efficient in the removal of grease, oils and proteins.  A hot water machine is a valuable aid for sanitizing and/or cleaning delicate and sensitive surfaces, where high temperature replaces the mechanical action of pressure.
How important are the accessories of high pressure washers?
They are definitely not negligible elements! The accessories are very important because, besides enhancing the cleaning effect and reducing the required time, as in the case of hydrobrushes and rotating nozzles, some of them convert the high pressure washers into multifunctional machines, such as the pipe cleaning kit, the floor cleaning lance and the sandblasting lance.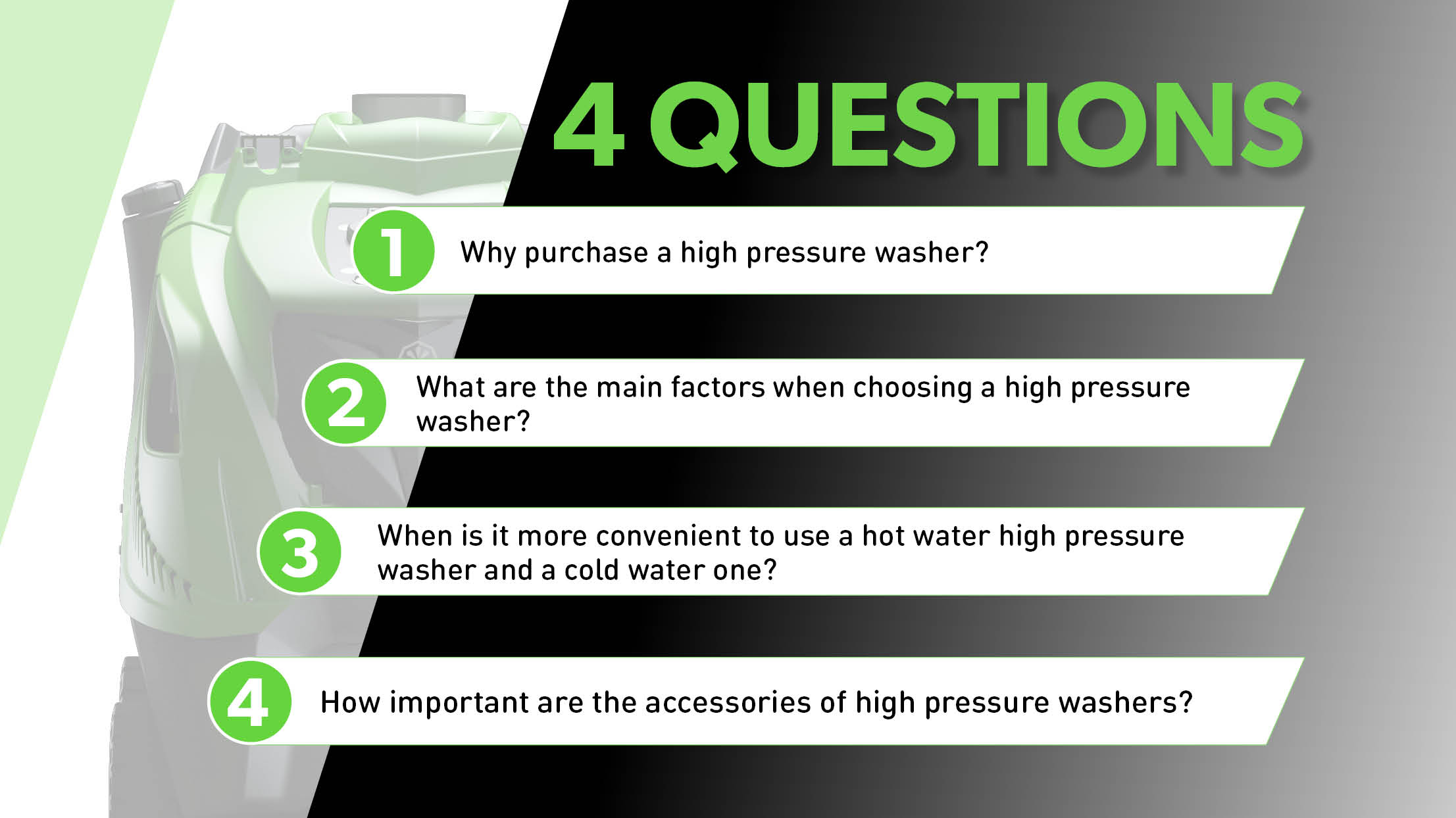 Purchasing a high pressure washer needs time and attention: the four questions we have explored will guide you in the choice of the most suitable machine for your needs. In addition to this, a consultation with an IPC expert can be an additional help in making the most appropriate decision.
In our next post, we will talk about the most frequent problems in the post-purchase stage of a high pressure washer.
Are you ready? Stay tuned!
If you have further doubts or questions, don't hesitate to contact us!
Write to info@ipcworldwide.com, we will be happy to answer!