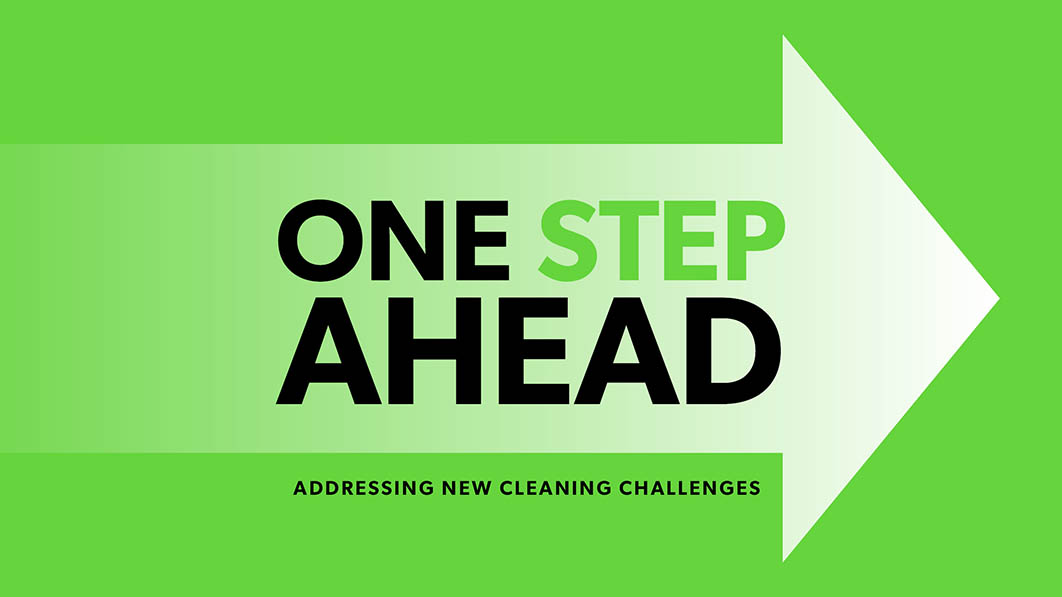 Estimated reading time 5 minutes
In these challenging  times, IPC has taken very seriously the new and unprecedented scenarios we have all been facing in the last few months.
Conscious of a stronger responsibility, our R&D department, our technical experts and engineers have brought together all their know-how and worked with a renewed commitment during the lockdown period. We have involved our entire supply chain, our sales partners located in more than 140 countries, several cleaning sectors experts, many contract cleaners, some qualified associations and accredited laboratories in this brainstorming activity, all of whom have responded promptly with effective and unique integrated cleaning ideas.
The whole IPC organization,  feeling a new motivation and taking "one step ahead", has been focusing on a big project to redefine and implement a renewed, dedicated and complete functional range of integrated solutions. The goal is to provide our customers with effective responses, in compliance with the additional precautionary cleaning practices now required to protect communities all around the world.
New Steam Generators - Incomparable Steam
IPC's established experience and know-how in the manufacture of steam generators have been exploited and fully expressed into state-of-the-art cleaning workstations, that can now provide higher cleaning standards than ever before.
The SG50 steam generator has been designed to ensure high productivity and excellent performances (max steam temperature 160°C). Taking advantage of dedicated accessories and special microfibres, this machine can now reach even higher cleaning standards than other comparable products on the market.
In addition, the reduced width of the machine allows access to narrow and smaller areas such as train corridors.
New High Pressure Cleaners - Outlet Water Temperature
Our research has led to brand new high pressure boilers that can now increase working temperature to 100°C for improved and safer cleaning performances.
Our hot water high pressure cleaner PW-H100 HTM, equipped with exclusive ETCS technology, ensures a constant high temperature stability at 100°C, both in high and low pressure modes.
New WorkStation Solution - Steam Generator and Trolley
This is our new and improved answer to meet real demands within cleaning practices. It consists of adding a steam generator to a professional fully equipped trolley.
The workstation, which can be easily operated from and to the trolley, is the combination of the steam generator technology with the manual cleaning accessories to achieve higher levels of hygiene.
The trolleys are fully adjustable and are available for tailor-made configurations (waste bag, extra buckets, draws etc.).
New Spraying System – 4 in 1
IPC  has borrowed the best spraying technologies available on the market and incorporated them into our products.
In this way a range of flexible solutions now allows spraying on to floors, vertical surfaces and tricky areas in a safer and more efficient way than before.
The New Spraying System is extremely efficient  and can easily be retrofitted on to all IPC ride-on scrubber-driers. It can be controlled via the front panel and can also be used from the drive position with the aid of a spraying lance.
The spraying tank and its trolley can be taken off the scrubber and used as a hand held device for better results, on small to medium sized surfaces. The tank can also be used as a back pack sprayer, with a hand held lance to spray hard-to-reach or uneven areas.
New Vacuum cleaners – All in 1: Vacuum to spray
A worldwide experience in H class vacuum cleaner manufacturing led IPC to develop a line of models with the highest class HEPA filtration efficiency, both for wet & dry vacuums and all equipped with the exclusive DFS technology.
The Vacuum-spray double solution machine now features both injection and extraction functions: a simple kit converts the extractor pump and chemical tank into spraying elements, which can be activated via a separate switch.
The GS 1/33 H ISO5 ULPA is a high filtration vacuum cleaner qualified and certified for the recovery of dangerous dusts. During operation it ensures maximum levels of compliance and avoids any re-emission of stray particles into the air which are potentially dangerous for health.
New Touchless Dispenser – Touchless Dispenser Stations
Our know-how in touchless systems has now been applied to our gel Dispensers. With the aim of satisfying current stringent requirements, a unique program of Hygiene Stations has been developed, with a focus on the ease of use in any high-traffic environments and to maximise safety for communities.
The new complete range of Hygiene Stations includes gel dispensers, comunicative display boards, tray holders and a no-touch waste bins.
A special dedicated Hygiene station has been developed to be used on vans or trucks as well.
New Trolleys – Hygiene Trolleys
Our multipurpose trolleys' range, in a new recycled plastic colour, has been expanded with new models.
The special PT (Pre-Treated) trolley line has been designed to be used with both disposable or microfiber mops in the "ready for use " mode. Infact, these trolleys are featured with 2 buckets, one for the preparation of the mop with chemical solution and the other for the storage of used mops, thus avoiding all risks of contamination.
In this range, the PT02 model can be used with disposable mops and wipes, whereas the PT01 and PT03 models can be used with both disposable and microfibre mops and wipes.
New disposable Mops and Wipes – Efficient disposable
A dedicated disposable range of mopping, wet and multipurpose wipes has been specifically selected to obtain excellent performances in removing and collecting any type of dirt from floors and vertical surfaces, including glasses and windows.
If you are interested in receiving more details on our New Integrated Solutions, please keep on following our blog and contact our sales teams for further information!