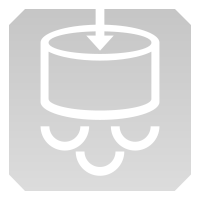 The easiest way to clean the filter.
The Back Flow automatic filter cleaning system ensures constant high suction performances. The system can be manually activated by pressing the button.
For maximum efficiency you can also press the flexible hose against the specific hole or cover it with your hand. This system enables you to quickly clean the filter without removing it from the vacuum.
Benefits
The BACK FLOW system can be activated manually, by simply pressing a button.
It's possibile to clean the cartridge without opening the head and avoiding the contact with dirty waste
Collected material and dust are not dispersed in the environment while cleaning the filter
 The system delays the filter clogging, extending its durability
Filtration efficiency can be quickly restored
 No electronics, the system works with resistant mechanical devices only