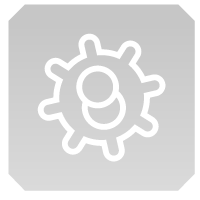 RECOVERY TANK SANIFICATION
Biosan is a new product in the cleaning industry. It has been developed to sanitize the scrubber drier's
recovery tank: a fertile enviroment for bacteria growth, origin of odours and source of harmful pathogens spread by vacuum motor air flow. More than 99.999% of bacteria are eradicated overnight and a pleasant fragrance covers residual odours.
Applicable to all scrubber driers.
Benefits
Overnight action that eradicates 99.999% bacteria, odours source and harmful pathogens
Patented vapour technology, sanification of all surfaces, no direct contact needed
Ingredients are natural and eco- friendly